Our podcast partner for Season 4 is COLORBOND® steel and their Matt range. Across the season, I share insights into how this product performs and can be used in your renovation or building project.
Here's some more detail if you've been looking for a durable and long-lasting cladding for your roof and walls.
Metal cladding, and COLORBOND® steel is a fantastic option to consider.
Now, when building or renovating our homes, we are juggling a lot of ideas, desires and demands. There's so many boxes to tick, criteria to satisfy and wishes to fulfill.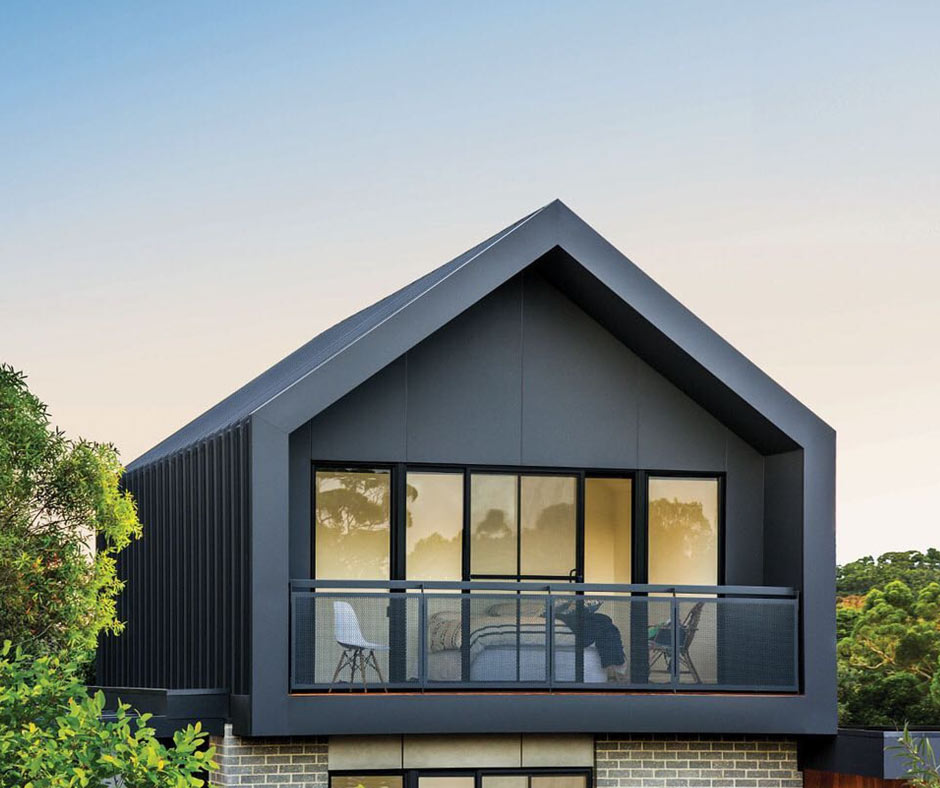 This project is designed by PAD Studio, and is clad in COLORBOND® steel Monument® Matt
Here's 5 key areas to consider when thinking about what your home needs to do, and how you can choose a material like COLORBOND® steel Matt to meet your needs.
#1 Our homes need to be built to last
There's this phenomenon called "planned obsolescence" or "built-in obsolescence". It's actually a design or business strategy where something is made with the aim to become obsolete within a certain life span. So when we buy a phone, or a computer, a TV or even a car – we have an in-built expectation that we will, at some point in the near future, be replacing it.
This is rarely the case with our homes. We buy them, build them and renovate them, with the expectation that the structure, the building, will last for decades. Even longer. Yes, we may know (deep down) that we'll be replacing components within it, such as tiles, joinery, carpet. But the roof, the walls, the materials those things are wrapped in, are expected to last and withstand some pretty punishing conditions (inside and out!)
So when you're building or renovating your family home, choosing materials for longevity and durability is definitely worthwhile so that your home doesn't cause headaches for you long term. The last thing you want, after investing time, money and effort into your project, is to have to worry about things breaking down or deteriorating over time.
COLORBOND® steel has been around for over 50 years, and the Matt range has been tested for 10 years in real world exposure testing and has undergone accelerated laboratory testing. It's made in Australia, is incredibly durable and easy to maintain as a building material for your walls and roofs.
BlueScope's COLORBOND® steel with Activate® technology is covered by the National Construction Code (NCC) and applicable Australian Standards, ensuring it meets or exceeds Australian building standards
It's a great choice when considering the durability and longevity of your roof or wall cladding, and given the business has been around for over 50 years, there's certainly proof of its performance!
Kyal and Kara's Long Jetty renovation uses COLORBOND® steel Surfmist® Matt.
#2 Our homes need to be low maintenance
As well as choosing materials for durability and longevity, considering what they'll take to maintain is also important. Often homeowners fall in love with materials that end up being hard to maintain, or even costly, in order to keep that 'day 1' appearance. It's not conducive to your home being a source of relaxation, or being sustainable overall.
So every time you consider a material choice for your home, ask "what will I need to do to maintain this". Sometimes manufacturers have specific maintenance requirements in order to honour warranties – so it's worth checking this out. Other times, materials will degrade much faster if not properly maintained.
Is the material you're choosing fit for purpose? Has it been manufactured to cope with being exposed to the weather? To the sun? Does it need to be hosed down regularly? Do you need to repaint or refinish it every 12 months? What will be required once it's installed? Checking with the manufacturer before you buy is worthwhile, so you understand you're making the right choice, and what obligations there'll be on you as the homeowner.
The last thing you want to do is hit each weekend knowing you have a million jobs around your newly renovated or built home, in order to keep it looking great!
One of the things I love about COLORBOND® steel is that, once installed, that's the finish. You get weatherproofing, aesthetics, colour, design and protection all in one. Wash it down every six months if it's not naturally washed by the rain. Simple. It's a great material to use as a low-maintenance choice for your home.
Investigator College, Victor Harbour, was designed by Flightpath Architects. It uses COLORBOND® steel Monument® Matt.
#3 Our homes need to be attractive and appealing for the long term
It can feel quite overwhelming to choose a 'style' for your home's design and look. Ultimately you want something that reflects your personal taste, suits your location, and will be timeless (so you don't feel like you do about that formal shot of you in the 1990s wearing taffeta and that bad perm … or is that just me? LOL).
So as well as balancing your choices for durability, longevity and low-maintenance, your style or aesthetic preferences come into play as well.
When I speak to many homeowners about COLORBOND® steel, they think it's simply the corrugated metal we see on roofs all over Australia.
And that's not the case at all!
There are so many options and possibilities when it comes to using COLORBOND® steel. And now with the Matt range, you can create exterior walls and roofs on your home that are especially beautiful.
I love seeing how so many designers use COLORBOND® steel differently. You can choose from a huge range of what's known as 'profiles'. This is the pattern, or ribbing you can select – so don't think it's only corrugated that's available to you.
If you want crisp simple lines, or something softer … a contemporary and luxe look, or something more organic and curved … honestly there are so many possibilities with COLORBOND® steel.
I especially love the Matt range due to how natural the finish looks and feels. The 5 colours are a great range to choose from.
Metal cladding like COLORBOND® steel and the Matt range can be designed to create various aesthetic styles. Contemporary, traditional, and everywhere in between. So look for inspiration for your project and see if it's a material you could consider. Many homeowners I speak to are surprised at its versatility as a material when they see the design possibilities available.
This home uses COLORBOND® steel Monument® Matt
#4 Our homes need to perform for our (sometimes harsh) climate
There's no doubt about it. The climate conditions in Australia set high standards for the performance of our building materials. Which is worth remembering when selecting materials. Often products and materials that are made overseas simply aren't fit for purpose. They can't anticipate what they'll be subjected to, and so don't stand the test of time when used in our local renovations or new builds.
As you may know, COLORBOND® steel has been around for over 50 years now. Quintessentially Australian, it's been used in all kinds of projects, in locations across Australia, with its tried and tested performance and its enduring style. COLORBOND® steel test their products in real world exposure testing and accelerated laboratory testing COLORBOND® steel Matt was rigorously tested for over 10 years before being introduced, to make sure it can survive harsh Australian conditions. It also includes COLORBOND® steel's high tech finishes to provide long-lasting durability and enhanced corrosion resistance too.
One of the things I love about COLORBOND® steel Matt is it also incorporates their unique Thermatech® solar reflectance technology which designed to reflect more of the sun's heat on hot sunny days. As a material, COLORBOND® steel has been developed to handle, and helps reflect the harshest Australian sun.
And perhaps you need to consider bushfire protection for your project?
COLORBOND® steel roofing and walling (and other products) are suitable for use in bushfire zones, including the most extreme, BAL-FZ (Bushfire Attack Level – Flame Zone), when detailed as specified in AS3959-2009.
What I love about this is that there's this feeling that you're backed into a corner to have a home that looks a certain way when it comes to building or renovating in a bushfire prone area.
Yet COLORBOND® steel can create great looking homes that are elegant, or industrial, or contemporary, or more traditional.
Whatever your preferred design style, COLORBOND® steel can help you create a home that meets the requirements of bushfire zones, look great and be super durable as well.
This South Australian project uses COLORBOND® steel Monument® Matt and was designed by John Adam Architects.
#5 Our homes need to help us relax
There's so many factors that go into creating a relaxing home.
Of course, it starts with the design. Designing a home that works, that makes your life simpler, more convenient, more fun, more enjoyable … this certainly facilitates a sense of relaxation in your home.
Finances also play a part: Delivering your project on budget, so you don't stress yourself financially and worry how you'll afford it in the future. Think of coming home everyday to a house that reminds you how much financial stress you are under! It's not conducive to relaxing in that home.
Yet, there's a lot more to this sense of relaxation that we often don't consider during the course of our projects. I've touched on some of these ideas already, so let's look more closely at how to do this.
Whether building or renovating, choose materials that are:
DURABLE, so you don't need to worry about things breaking down or needing replacing;
LOW MAINTENANCE, so you don't stress about keeping them looking great as your home ages;
TIMELESS IN DESIGN AND QUALITY, so you don't feel your home is dating each year, each decade, you choose to live in it;
STRONG AND RESILIENT in our climatic conditions, so you don't fear them deteriorating, and your home being less sound or protective of you, your family and your belongings;
FROM RELIABLE BRANDS that you know will still be here in the future, so you can ensure warranties are honoured, and future issues can be dealt with if required;
MARKED WITH THAT BRAND so you can have faith you're getting what you've paid for;
DELIVERING ON YOUR EXPECTATIONS … and even exceed your expectations for years to come.
This South Australian project uses COLORBOND® steel Monument® Matt on its steeply sloping roof – almost a fifth elevation
This is all 'peace of mind' relaxation.
Peace-of-mind relaxation is that security and assurance that the money you're investing in our home actually delivers a building that will stand the test of time, and not cause dramas or headaches during (and beyond) your ownership of it.
It's a really important type of relaxation to aim for, and something many homeowners don't prioritise when choosing materials for their home. They think about the design, and the finances, but don't tap into this relaxation effectively. And they totally underestimate how powerful it is for the long-term lifestyle in their homes.
From my personal and professional experience, COLORBOND® steel certainly delivers on this peace of mind relaxation.
One thing about COLORBOND® steel is that it gets confused with other materials that look similar – yet don't have the same history, or the same integrity as the COLORBOND® steel product.
It's really important if you're looking for, and specifying, COLORBOND® steel by BlueScope, that you be sure you're getting what you paid for. I think the name gets used quite generically, so don't get confused and think it just means painted metal.
There's a huge amount of history, tech, innovation and quality that goes into COLORBOND® steel – to help you be sure you get the performance you're seeking.
COLORBOND® steel roofing and walling is stamped with branding on the underside of the sheeting. So you can check you're getting the real thing – look for the BlueScope or COLORBOND® steel stamp – ok!
Have you thought about all the things you home needs to be and do?
There's a lot to juggle when designing, building and renovating your home isn't there?
So here are those 5 key areas again:
Our homes need to be built to last
Our homes need to be low maintenance
Our homes need to be attractive and appealing for the long term
Our homes need to perform for our (sometimes harsh) climate
Our homes need to help us relax
Choosing materials that satisfy these 5 areas can be key in you creating that finished home you're dreaming of, and getting it right.
Consider COLORBOND® steel as a great option for your roof and wall cladding. I've used it in copious projects over my 20 plus year career, and always loved the finish and durability it brings. The Matt range is a gorgeous option to create a sophisticated and elegant finish that has a really luxe feel to it.
Head to www.colorbond.com/undercoverarchitect to learn more, and request your samples, so you can see if it's a good fit for your renovation or new home.