The Courier Mail Home Show runs twice each year, and is a great way to be exposed to lots of building advice and products all in one spot, if you're building or renovating, or in the industry.
These events can be big and overwhelming, much like the spaces they occupy. So I walked in, headed to the right, and zig-zagged my way through all the aisles to make sure I didn't miss anything. I photographed the products and materials that really captured my attention, and took time to have a chat to learn more about them.
This is my selection of my Home Show finds …
Nulook is a Gold Coast based business, specialising in epoxy floor finishes.  Their system uses ceramic paint flakes imported from the USA, which are scattered over a new or existing concrete slab, and then finished with a clear coat.  The result is a super-durable floor finish that is used in both residential and commercial projects, from automotive workshops getting lots of traffic, through to the finished floors in high-end homes.
The process is this … they grind back the surface of your slab, and put down a self-levelling epoxy substrate, which etches itself into the slab to find the finish. The paint flakes which come in a range of standard colour mixes, and can be edited to a certain extent, are scattered over the floor. Once the epoxy is cured, a gloss clear coat is applied over the top – however they can do a matt finish also (which would be my preference – I found the gloss looked a little plastic-y).
The finish will satisfy slip-resistance ratings for bathrooms and is a good option for those hard-wearing areas of your home. The price is around $50 – 55 / sqm for supply and install, and takes around 3 days to complete.
DECOPANEL – Decorative architectural screens [click here for website]
I was really excited to see these guys at Home Show, as the last time we'd crossed paths was when they'd helped us with our last renovation project. I had been looking EVERYWHERE for local, affordable, well-made, durable and gorgeous architectural screens, that I could customise for some security gates and privacy screens. I was pretty frustrated until I found this company. They had a pattern I liked, which I then customised to get the level of transparency, privacy and security I needed, and they made it up into gates, fixed panels and window screens – and came and installed it. They also created some signage from a hand-drawn sketch I gave them (I'd written out our street number in words). They were responsive, patient, collaborative and really pleasant to deal with, and produced a great product.
They have a big range of products, and use materials such as aluminium, aluminium composite panel and core-ten steel (that steel that rusts to look really industrial – although it does leech on what's around it). I particularly loved the pergola installation they had on display, which had beautiful foliage-like screens over the top – it felt like you were sitting under the shade of a tree. I'm already plotting where I can use that, and hubby has volunteered a location at home!
A SIDE BAR – An Undercover Architect no-go zone
I posted this piccy on my Facebook and Instagram pages with the following caption:
Just so you know … I am a big believer that materials should be what they look like … Should feel what they are and should be honest and have integrity in their appearance. These timber floorboard tiles therefore are an Undercover Architect no-go zone! If you want floorboards, get floorboards. If you want tiles, get tiles. Choosing materials for authenticity will stand the test of time past any fashion, trends and fads.
Interestingly, a property developer posted that he'd recently secured them for a project at $27 per sqm, and was using them in small space to get a seamless flow from inside to a deck outside. We joked that, now he knew, he might make a different choice next time. It reminded me though that often industry professionals have access to discounts, savings and alternative (less expensive) products that can be passed on to you. So much so, those savings can pay for the professional's fees AND give you expert advice in navigating your decisions. Worth considering if you're building or renovating.
These Living Tiles are 330x300mm individually planted grasses and plants to use in your courtyard or garden. Costing $20/tile, they can be delivered via courier (in coolroom storage) in specially designed boxes – anywhere. They are supplied in a tray, and you lift each out and plant it like turf. Create your gorgeous lush garden – they are great to get 'greenness' up in your courtyard space, or create a feature in a larger garden. They take light foot traffic (some can be mown), and some of them are even fragrant. Really gorgeous and a clever product.
This stand really grabbed my attention, with lots of funky and clever ideas for lighting and signage. Ranging from the "Jar" lights – an LED suspended light fitting with colour-wrapped cord (in truckloads of colours), and metal design finishes you could change both inside and outside the light fitting … to the brilliant neon, colourful words and shapes of all sizes and types. The Jar lights were $80/each, and the neon signs started at around $100, and ranged upwards from there based on their size and complexity. Seriously, so many options and so much fun, the only limit is your imagination and your budget.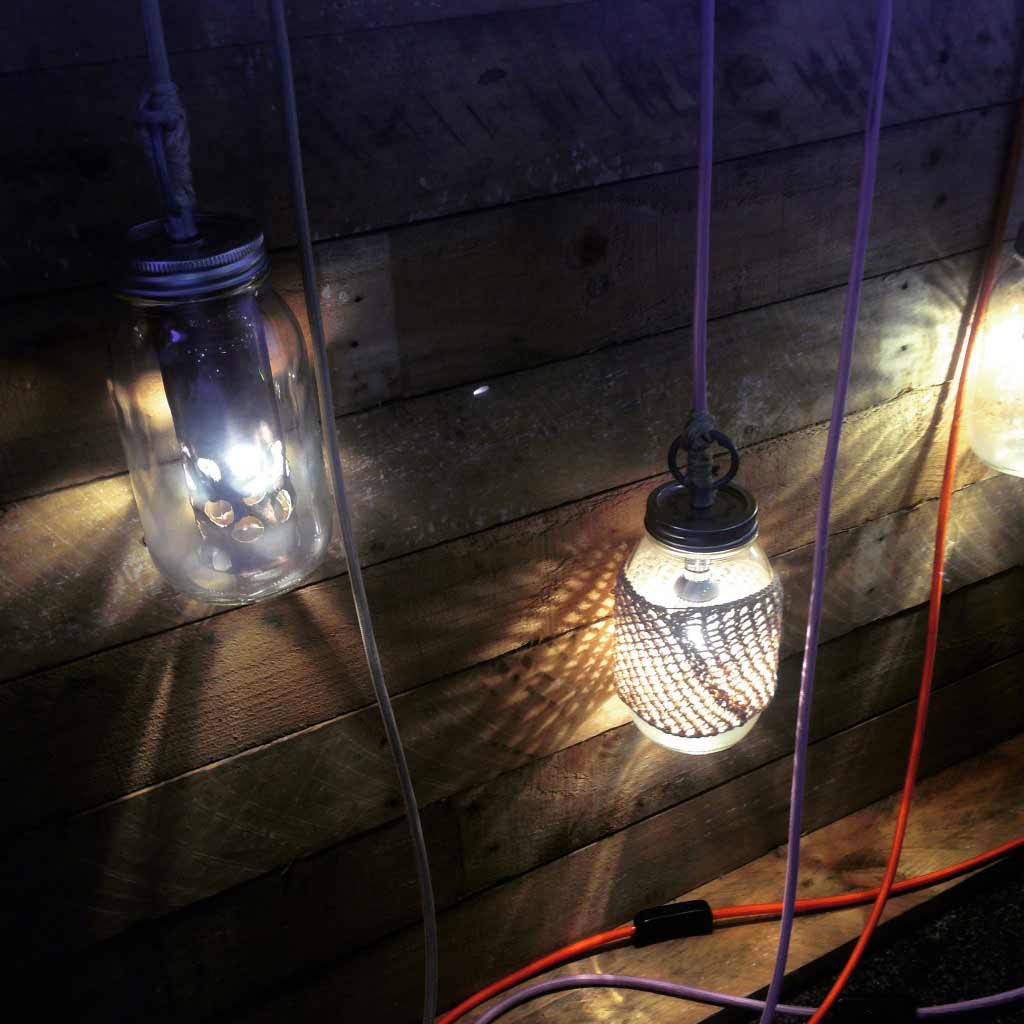 MITSUBISHI – Split System Airconditioning units [click here for website]
These jumped out at me, because I have a client at the moment who is renovating a beautiful home with lots of original plaster ceilings and timber picture rails … and the thought of punching through airconditioning ceiling supply and return air vents, and vertical ductwork is not conducive to retaining those original and historic features in their home.
This split system is a wall-mounted AC unit. It's around $200 more expensive per unit than the standard wall mounted unit, and comes with a black, white or silver cover. Looks slimline and fairly attractive as far as AC units go. Of course, if you can design your home to avoid having to use airconditioning, that's always a great way to go – but not always possible, I know.
Lighting Illusions is a Brisbane-based lighting retailer who also ships products around Australia. They had a great display, with lots of these big timber pendants that are trending at the moment. They're a good, affordable supplier. Lighting is one of those products that you can get MASSIVE price variation in depending on the quality of the fitting, where it is sourced from, and the originality of the design. Consider your choice (and what you spend) an investment in reducing the overall running costs of your home, and the maintenance – as well as the lighting quality and aesthetic appeal.
What grabbed my attention was the Martec light/fan combo. I'm always on the lookout for a decent light/fan fitting as I know of lots of renovations where rooms are too small to get a ceiling fan and downlights in the one space … and there are lots of hideous ceiling fan/lights out there. This option has a 28W LED dimmable (!) light and a wall plate for the fan control.
Solatube skylights are a cost efficient way to get natural light into an inbound space in your home. They look like a light fitting in your ceiling, and now there are lots of options as to what that light fitting can actually look like. These have an LED fitting inside them too – so natural light during the day, and electric light at night – all through the same fitting in your ceiling (and you can even add an exhaust for your bathrooms). Think of these for walk-in-robes, internal pantries, bathrooms … anywhere inbound that has some roof-space over it. No longer do they have the old crystalline panel acrylic – much more modern a look!
AUSTRALIAN TIMBER CEILINGS – Solid timber ceilings and walls [click here for website]
These are pre-finished timber tongue-and-groove boards that come in different stains, widths and are all 11mm thick and super lightweight. For use as am internal or external ceiling, external soffit or a wall feature. Its made from Paulownia, which is an extremely fast-growing tree grown in Plantations mainly in China … according to the sales material, it is also "remarkably stable" and "rot resistant and does not attract termites". It felt light like balsa wood, and was a similar colour when raw (which you can also specify, and paint or finish yourself). Being lightweight, it can be mounted on standard ceiling battens, similar to plasterboard. Its cost is $50 per sqm raw, and $70 per sqm for pre-finished stain (supply only). There's a fair amount of research available online about the sustainability of the timber, so do your own research.
So that's my finds at The Courier Mail Home Show for 2015.
There are lots of these types of events throughout the year, that can really help your search for products and materials for your renovation or new build – just by consolidating it all in the one place. There are lots of building advisory centres located permanently around the country too – like this one in Brisbane – that have permanent displays to help you in your home-building journey.
If you'd like to see what I found at the August 2015 Courier Mail Home Show, you can click here.