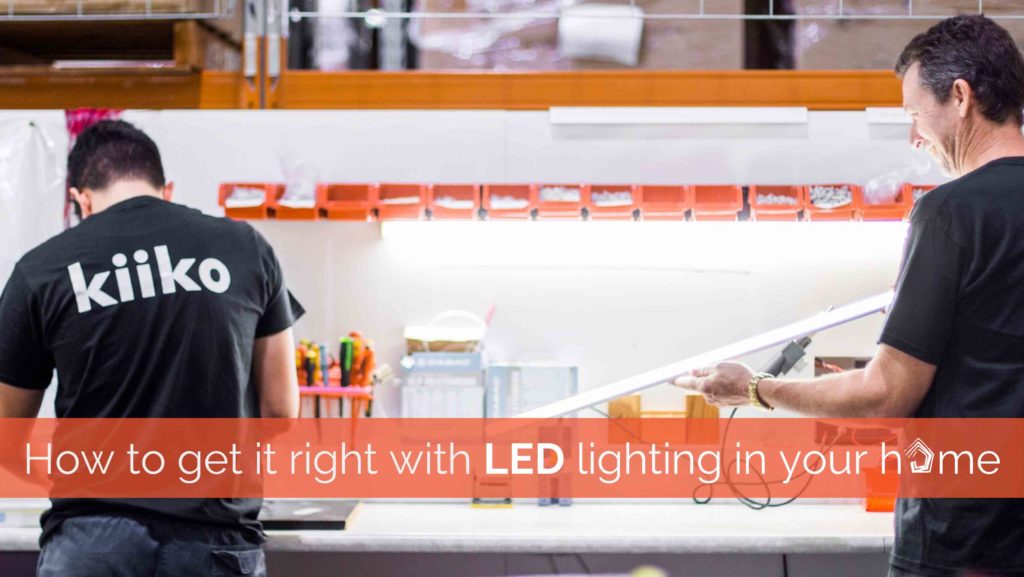 What is LED lighting? And how do you get it right?
Lighting design is something I see bamboozle homeowners. They often don't think about it until well into their project, and then get caught up in how to do it, how to afford it, and where to get the information they need.
Our podcast partner for Season 3, Kiiko LED, provides fantastic and affordable options for customisable, LED strip lighting fixtures that you can order online. I asked the founder, Craig Thomas, to help us out with answers to some key questions about LED lighting.
1. What is LED lighting?
LED stands for Light Emitting Diode.
An LED is a semiconductor that transforms electricity into light and is right now one of the most efficient forms of lighting.
Each year the efficiency of LED's is getting better and better. Lights are becoming brighter and using less electricity. We call this the "efficacy" of the lamp.
There are two main types of LED's:
SMD (Surface Mount Device) and
CoB (Chips on Board).
These two forms of LED are used to produce most of the worlds LED fixtures. In the future, we'll see more OLED (Organic Light Emitting Diode) technology. (OLED is lower consumption, and has better durability).
Source: KiikoLED
2. Is it really true that you'll never have to change a lightbulb in an LED light fitting?
Unfortunately, this is not true. Although a lot of quality LED lamps have a lifetime rating of 50,000 hours (which is A LOT – the old incandescent bulbs lasted 1,000 – 2,000 hours), there are a lot of environmental conditions that can affect the life of the LED.
Some of these include the quality of the power coming into the home, the location of the LED (which may be susceptible to a lot of heat in the ceiling cavity or joinery), and voltage fluctuation.
However, it is true that LED lighting lasts a lot longer than traditional light sources such as Halogen (1,000 – 2,500 hours) and Fluorescent (30,000 hours).
Source: KiikoLED
3. What are your top tips for choosing LED lighting, when we talk about things like colour, wattage, IP ratings etc.
For the home with warm finishes (timber floors, natural coloured finishes), our suggestion is to install Warm White (3000K) lighting. This goes across the down lights and linear strip lighting.
For outdoor applications and bathrooms (wet areas), we would ensure the fixtures meet a minimum IP44 rating. Where possible, we would specify IP65+ for ultimate protection of the lamp source.
Another important aspect to good lighting is ensuring a consistent and high CRI (Colour Rendering Index) across all luminaires (light fittings).
Although your lights may be all Warm White (3000K), if the different lights in the home have different CRI's, you will notice a distinct difference in the colour.
It's always important to use quality LED's. For commercial installations (example, Doctors Surgery, Offices), we recommend the use of Natural White (4000K) LED.
A note from Undercover Architect: This can all sound tricky, but if you're choosing lighting, start to notice these figures used on different LED light fittings. For example,
certain IP ratings mean a light fitting can handle steam in a bathroom or rain in an outdoor fitting
the "CRI" or Colour Rendering Index is the ability the light has to light your spaces so that its colours are accurately shown, and not tinted or coloured by the light itself. So – it's not the colour of the light – but how it lights the space. So, as Craig says, if you have different CRI's, that will impact how your space looks when lit up. A CRI is measured on a scale of 0 – 100, with 100 being the highest. According to Wikipedia, most LED lights achieve over 80, with some manufacturers showing a CRI over 98.
The "K" figure stands for "Kelvin" and measures the light's colour temperature. Warm Whites are below 5,000K and Cool Whites are over 5,000K. I generally prefer Warm Whites in residential situations. I also specify them in bathrooms in family homes – they're a bit kinder on kids and us.
Source: KiikoLED
4. How do you recommend homeowners go about designing their lighting for their reno or new home?
We highly recommend consulting with a lighting professional to ensure a quality and functional outcome.
A lot of lighting companies will offer this service free of charge, but will specify their own products. It becomes a win-win for both parties in this instance. Lighting companies are abreast of the latest technologies, innovations and trends to ensure a great design.
At the end of the day, lighting is incredibly important to creating a lifestyle and an ambience inside and outside your most valuable asset, your home.
(If you're wanting help with your lighting design, you can contact KiikoLED for some support.)
Source: KiikoLED
5. What common mistakes do you see people making when it comes to their lighting selection and design?
The most common mistake is thinking one fitting will do the whole house.
When a lighting professional approaches a design, they will look at each room individually to create the best result.
Another common mistake is leaving the lighting until the last minute.
Often we get called in after the electrical / lighting rough in has happened (on site, during construction) and it's too late to achieve what needs to be achieved. Remember, you get one chance only!
Source: KiikoLED
6. Tell us about Kiiko LED – what's Kiiko all about? what prompted you starting it? how does it help homeowners?
KiikoLED came from an opportunity we identified from our parent company, Caribou Lighting, (which sells a complete collection of lighting solutions – down lights, wall lights, linear led, exterior lighting etc).
With Linear LED being so popular, but also a very customised lighting product, we sought to create a platform online for consumers around Australia, New Zealand and the world to create their own customised linear systems for their own projects.
We also identified a deficiency with retailers who deal in linear LED and supply the consumer market with 'parts' to create a system. This approach opens the consumer to issues and problems, as the typical electrician who comes to install the system at a home doesn't carry the necessary tools and parts to build the system professionally.
It is more efficient and cost effective for KiikoLED to build the system to size and deliver to your door in a plug and play format.
Source: KiikoLED
7. What's your favourite Kiiko section and why?
My favourite KiikoLED profile is the Kiiko 4, which is a little deeper than some of the others.
I love seeing this installed on the ceiling with a high output LED inside providing effective room lighting from a very slim light fitting. I never get sick of seeing the continuous, uninterrupted light source across the diffuser.
This is the Kiiko 4 installed – looks great, hey? Source: KiikoLED
Thanks so much, Craig, for giving us that great insight into LED Lighting and Kiiko LED.
This season, Undercover Architect has a podcast partner: Kiiko LED.
Kiiko LED is customisable, DIY, LED strip lighting, that you can order online to your specifications, for your needs and project.
Kiiko LED is founded by Craig Thomas, who I've personally had the pleasure of working with for over 12 years now, in my own projects, and in client projects.
And so I've been able to organise with Kiiko a fantastic UA Community only offer. If you head to their website at www.kiiko.com.au/undercoverarchitect you'll be able to access a $25 discount to use on your first order.
Check it out, and start building your Kiiko LED strip lighting now!