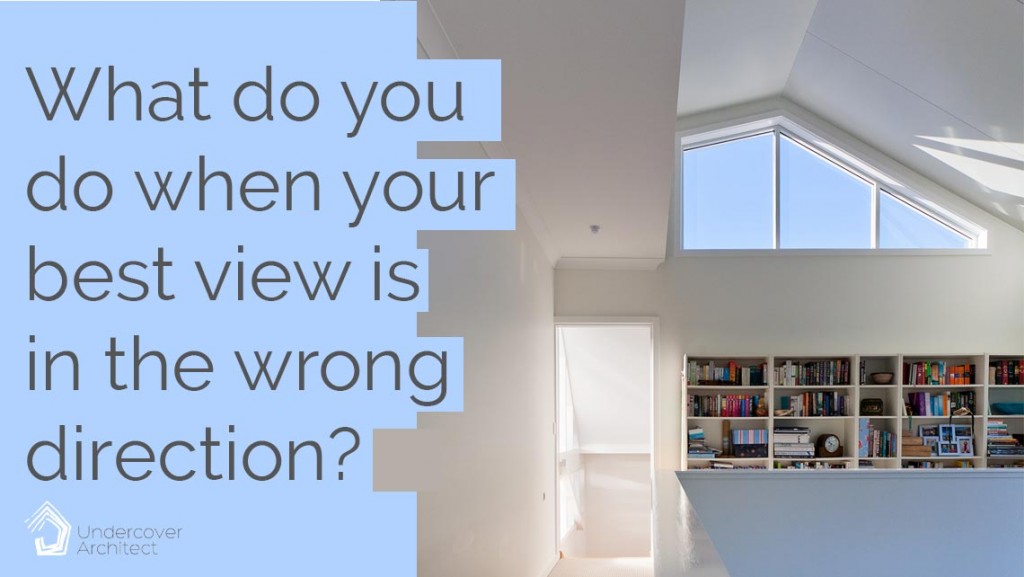 How do you design a new home or renovation?
Especially when your orientation isn't ideal – or your best view is in the wrong direction? Here's some tips to remember.
In this blog, I about to talk about orientation located in the southern hemisphere – if you're in the northern hemisphere, substitute "north" where you read "south" and vice versa 🙂
Recently while researching for a client who's looking to design a new home, I watched a video put together on TheUrbanDeveloper.com. This is a website and blog that is the baby of Adam Di Marco, a savvy and smart guy I have had the pleasure of working with when he was a Development Manager at Leighton Properties, and I was a Director and Co-owner at DC8 Studio, and I was helping out (amongst other projects) on the Boggo Road development – both the apartments and the Sales Office.
The video was an interview with John Flynn – another savvy and smart guy I've had the pleasure of working with when we were both in the Senior Management team at Mirvac Design. He's now a Director at Conrad Gargett.
It was during the video that I was reminded of something that was a bit of a mantra at Mirvac (there were a few!) … and it was this:
ASPECT OVER ORIENTATION
What does that mean?
Aspect is the main outlook or view from your site. And orientation is the direction your site faces. In an ideal world, your aspect [outlook] would be to the north or north-east [orientation], as this creates the best opportunities in getting great living outcomes when you design a new home.
And this mantra in the world of Mirvac? Well, it meant that you designed for the major view or outlook first … and then figured out how to get natural light into it after that.
But wait? Haven't I been saying, over and over again, that you MUST design a new home for orientation in order to create a home that is great to live in?
Yes, I have. And I still stand by that statement. However, it's not always possible to have your aspect and your orientation align.
What if your best view is to the south or the west? What if your rear yard faces west? What if it faces south? What do you do about designing to orientation then? How do you design a new home that is well-lit naturally, and makes the most of the natural conditions to maintain a consistent temperature in your home?
It's scientifically proven that natural light is necessary for our well-being. It maintains health, mood and reduces anxiety. However, in our homes, natural light (and capturing it) needs to be balanced with managing the heat gain that comes with sunlight.
And you know when you walk into a home (whether for the first time or every day) – well the view, that outlook or aspect – that's what hits you. So if you're fortunate to have an amazing view from your place, or even just a lovely environment, it's natural that you want to capitalise on it. In developing your asset, that's what makes sense. However, it's the orientation that helps make the home a joy to live in everyday.
So walk-in wow comes from aspect, but live-in enjoyment comes from orientation.
IF YOUR ASPECT IS SOUTH …
If your home faces south, or your view is to the south … what you'll find is that you get a soft, even light into those rear areas of your home. South light is great for workspaces, and sometimes for bedrooms – when you don't want excessive heat loads, or shafts of light in your interior spaces. However, because the sun in the southern hemisphere moves through the north, your southern rear garden will be in shade for most of the day. And your interior spaces (and garden) won't capture that warming sun in winter that is so necessary for creating natural comfort in our homes. Your garden will take a while to dry out after wet weather, and in summer, this shady nature can be good, but in the other seasons it sucks. Damp, cold gardens aren't enjoyable places to be. Often big storms come from the south (or SE or SW), so you can bear the brunt of these too.
IF YOUR ASPECT IS WEST
If your home faces west, or your view is to the west … well, on summer afternoons, your home will cook. Western sun is horizontal, as the sun moves lower in the sky and casts light into your home. Any neighbouring properties or nearby trees etc will provide shade – which is good in summer (when the sun has had a long day to heat up), but not in the other seasons (when the warmth of that sun helps your home be warmer over cool nights). In summer, when the afternoon sun is hot and harsh, this can really heat your home and outdoor areas up uncomfortably. In other seasons, you may or may not welcome this afternoon sun, depending on the climate where you live … but its harshness fades interior finishes, and creates glare and strong light conditions. So you can be sitting in a hot box, or spending a fortune on airconditioning to be comfortable. These are all important considerations when you design a new home.
IF YOUR ASPECT IS EAST
And if your home faces east, or your view is to the east? Well, eastern or morning sun is also horizontal. The sun hasn't got too hot first thing in the morning, so heat load isn't too much of an issue – and this is definitely preferable over afternoon sun. However, some times of year, you'll still get that glare that makes it difficult to appreciate the outlook you're trying to maximise.
SOMETIMES IT'S UNAVOIDABLE
Sometimes though, even when you're buying the best real estate, it is impossible to avoid these orientations. A good bulk of the non-CBD side of the riverfront in Brisbane faces west. And some of the best inner-city suburbs in Sydney have streets which run north-south, so the blocks face east-west. And generally, regardless of where you are, in each suburb there'll be streets where one side of the street will always have a west facing yard, or a south-facing yard.
So how do you make the best of orientation when maximising aspect?
HERE'S 5 POINTERS FOR DESIGNING FOR A DIFFICULT ORIENTATION
#1 Understand where north is and how the sun moves
If you've lived in your home for a while, you'll probably know this already. Otherwise, this app, 3D Sunseeker, is a great tool for figuring it out. It's not free, but it's brilliant for tracking the sun's movement. It uses augmented reality – so you can watch through your device (phone or tablet) the movement of the sun, overlaid on the view of where you're standing. (Check out this link for 3D Sunseeker). Solstices show you the shortest and longest days of the year, and the equinoxes are when night equals day in both spring and autumn. At a very simple level … shade from the summer solstice sun, and capture the winter solstice sun. Equinoxes require a little shade in the afternoon, but capture the bulk of the sun's movement on these days. Adjust for the climate of your location.
#2 Your windows and doors that face your view aren't the only source of natural light
If you have a great view, or are wanting to maximise your connection with outdoors and your surroundings – big glass doors and windows are the way to go. However, it's not the only way to get natural light into you home, and if your view is to the south, east or west, it won't do a lot to capture northern light. Now you know where and how the sun moves over your site, where is the northern light coming in? Can you use the side of your home to capture this light? The front of your home? The roof of your home (with skylights)?
#3 Deal with the orientation of your aspect
Acknowledging that you'll want to capture as much of your view as you can when you design a new home, looking at it and enjoying it comfortably (and thermally) can be two different things. If your view is to the east or west, vertical shading elements (preferably externally, before the heat has entered your home) are the best option. Look at operable external blinds – ones you can get out of the way when the sun isn't an issue, and ones you can drop down and still see through when the sun is glaring. Look for translucent shading fabric blinds with high UV values, and darker colours are more transparent than lighter colours. Or use an external-grade aluminium venetian-style blind, with blades that can be rotated to provide shade and view. If you're looking over lower roofscapes to your view (say from your bedroom you're looking over the roof on the outdoor area below), think about choosing a roof colour that won't cause glare issues when the sun is reflected off it into your bedroom.
#4 Get northern light into your home
If you're building or renovating, and your main view is to the south or west, then getting northern light into your living areas is imperative for making them enjoyable places to be. This is where you need to think vertically. What vertical devices can you use to get northern light into your home?
Think clerestory windows – these are high windows that sit above adjacent roofspaces (see the images – the one at the top of the blog also shows a home extension and renovation I designed under construction, with the long slot opening at the top being the beginnings of a north-facing clerestory window). Getting northern light over the top of other roof spaces and into your interiors is a good way to go.
If you're going to design a new home that's two storey, using the stair void to get natural northern light into the guts of your home is also great. Opening the stair up can improve this too, but isn't always necessary.
Using voids (holes cut in the floor) to open up volumes through your home that are lit from the top will also get northern light into the lower parts of your home. Your view may be out one side, but all your natural light may be coming from the other.
And in planning your home size and shape overall … if your home is south to the rear, a one-storey home will shade less of its yard than a two-storey home. (See the below image as an example.) Think about using one-storey elements in your homes facing yards that are your main outdoor play or entertaining areas, so they can still get access to northern light.
#5 Weigh up the compromise
If you have the benefit of choice … ie if you're just setting out on this journey of buying a new home, or a block of land … really weigh up the compromise. Think about how you'll manage the challenge that your best aspect and your best orientation are in different directions, and really consider whether you have other alternatives (ie buying a home or land where this doesn't occur).
It may sound strange, but having lived in lots of south-facing homes, and west-facing homes that weren't designed to deal with this orientation, I know first-hand that it's hard work. Spaces are dark, or hot, or cold – at all the wrong times. Miserably so. I had a client once show me through their south-facing home and when I asked if they had any issues with the orientation, they said they didn't mind, as it was cooler overall (which was good for where they lived). However, as we looked through the home, they showed me parts of the floor plan that could only be used for storage because they were too dark for anything else. Storage and disused areas much larger than they needed to be. These areas still cost you to build, they still cost you to maintain them, and they're not being optimised in what they offer to your lifestyle. These homeowners hadn't put it together mentally – that because their home faced south (without any design devices to capture northern light), these areas were wasted. A home CAN capture northern light AND still be cool – when designed correctly.
So yes, as the Mirvac mantra goes – aspect over orientation. With the Undercover Architect caveat … just don't ignore getting that precious northern light into your home.
Enjoyment (orientation) and wow (aspect) combined is a great way to start creating the perfect home for you.
I have a whole podcast season to help you learn the key decisions in designing for orientation, and maximising what's available on your site (for free) so your home really benefits from it.
Great design isn't anymore expensive than terrible design. These episodes will help you learn what matters most to make your home work, and feel great.