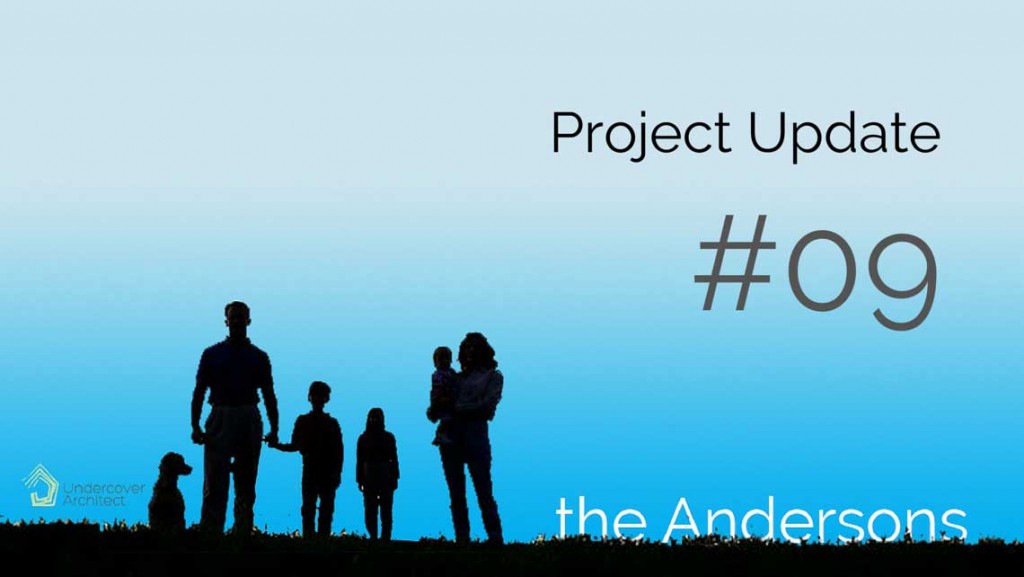 Construction is well underway, and things are moving quickly …
Check out the video to see for yourself.
In our last update, all the approvals were in place, and the site had been cleared for construction to commence.[Remember you can find an overall summary of the top tips on our journey so far on the Hit List here.]
This update, we look at where things have got to in the construction process … and they've certainly moved quickly!
Even with all the wet weather that has been happening in Brisbane over the past few month, work has not been delayed very much. The key difference I'm noting between this, and other projects that I've seen be built from scratch is the sheer speed with which this is being built. For me, this really comes down to the builder, and the difference in their model. Landmark is a volume building company … so even though they're doing a custom-design (unlike Metricon, or Plantation for example, who do standard-designs), they operate like a volume-builder. So programs are streamlined, contractors are working across multiple projects at once, and the whole process is extremely systemised.
So your regular, individual builder may build a few, up to 10 or so homes a year, depending on how many they're building at once. And depending on their complexity, they may take 6 – 9 months to construct. Landmark build 80 homes per year, and take 4 – 5 months.
If speed is what you're seeking, this may be an approach for you. It comes down to how 'custom' you want your custom house to be. Whilst Clare and Darren's home is a one-off design, the way it is being built, the details and some elements of fitout, are fairly standardised and used across many Landmark projects.
Progress on site
Speedy is an understatement … and it's really exciting when you're just wanting to move into your finished home, to see work occurring at this pace. Here's the first month, listed by days, just to show you how quickly things are moving on site:
site levelled and cleared, new sewer connection installed, and house location and extent surveyed.
Clare and Darren met pool builder on site – pool dug by end of day
formwork for pool installed
steelwork for pool delivered and installed
pool concreting done (which means pool is virtually complete as a form by end of 5th day)
Saturday
Sunday
site level and clear in preparation for house slab pour
rain
rain
re-levelling of site, and bedding of sand put down in preparation for house slab
rain again!
Saturday
Sunday
formwork for slab laid out
waffle pods put in place (these act as fillers in the slab to reduce the amount of concrete required, and provide insulative properties too) and steel reinforcement installed
slab formwork and steel reinforcement inspected by engineer and signed off prior to slab pour (required for certification of slab and structure)
slab poured, and then formwork removed late in the day
first floor studwork framing erected
Saturday
Sunday
framing erection continued
framing erection continued, including structural steelwork where required
upper floor substrate (for under carpet and tiles) installed
upper floor framing is completed and roof trusses delivered to site
roof trusses begin to be erected
Saturday
Sunday
One month in pictures …
It's always great to take regular photos of progress on site. Even when it feels like things are happening slowly, images recording the project over time will show that things are happening, and will give you sanity and enjoyment later.
This is one month of progress on the Anderson project …
What have Clare and Darren been doing during this time?
As you can imagine, it's irresistible to be visiting the site regularly when progress is so rapid.
TOP TIP: remember that the site is actually the builder's whilst it's under construction. Yes, you're paying the bills, but it's up to the builder whether you get to access the site or not. So get that organised BEFORE you sign with them, and establish some ground rules that suit both you and the builder.
However, it's not just been all about visiting the site (which they've been doing daily as they live nearby and pass it regularly) … it's also been about finalising selections in preparation for product orders. Acting proactively and decisively is important during this time, as a seamless construction process requires for things to be available and delivered to site exactly when they're needed. So if you can make choices, and all orders be in place so that deliveries can occur when they need to, you won't be holding anything up as your home is built.
Included with the builder's pricing is a meeting with their Interior Designer. Even though Clare and Darren were already working with Tara Dennis of TD Creative Agency, they still had to go through this process. This is because the builder uses their Interior Designer to schedule all the selections, confirm they work with their standard systems and building methodologies, and help their overall processes go smoothly.
Needless to say though, working with Tara Dennis meant that Clare and Darren were prepared, and could go to this meeting with the builder's Interior Designer ready to make their selections quickly. This is where things like flooring tiles, kitchen cabinetry colours, benchtop stone, tiles for the bathroom, splashbacks, etc …. all those finishes … were selected. It still was a 2 hour meeting!
The selections still continue …
Next came the selection of plumbing fixtures. If you haven't made all your selections upfront before signing contracts, or you're working with a volume builder such as this, your contract will include a "Provisional Sum" (or PS) for some items. It's basically an allowance of money to be spent on these items.
Clare and Darren had $5,000 PS for all their sanitryware. This may seem like a lot, but when you have a bathroom, ensuite, two powder rooms, kitchen and laundry to fitout, it will add up quickly.
Again, it took 2 hours to go through all their selections with the sales rep from Reece plumbing (a lot of builders will work with just one company and send you there, as they get bulk buying prices). Along the way, the sales rep advised prices (at the standard rate), and at the end it was all added up … and was more than double the PS allowance!
So, working through it again, Clare and Darren looked at the various items. Some they reselected, and others they knew they could source at a lower price elsewhere, so they had them removed from the list (and then would need to supply to the builder themselves).
After this reworking, the list was $2,500 over the PS. The list then went to the Reece outlet the builder's account was with, and got its 'special-price-workover', and came back at only $500 over the PS.
You can see that when you do it this way, it's a bit of a moving feast. If you haven't locked all your items in, at their prices, before you sign your contract, be prepared to do this dance. It's part of the process, requires some flexibility and patience from you.
Next comes the cabinet maker …
A week later, Clare and Darren met with the builder's cabinetmaker to finalise the details of the kitchen. Remember, I had already drawn it up as part of their pricing package, and Tara Dennis had helped them with colour and material selections. So a lot of the work was already done.
TOP TIP: If you've never done this before, you'll be surprised at just how many details need to be resolved. I know from experience, it's all these detail decisions that can start to overwhelm home-owners, when building or renovating their homes. Some enjoy it, and some hate it and find it all too much. You'll probably know already which camp you'll fall into, from how you approach shopping and choosing in other areas of your life! Get help if you know it will be something you hate, or will find overwhelming. Even if you suspect you'll love it, it will still take a lot of time and energy (as there are lots of choices to be made, and generally a lot to choose from!), so get help there also. Chunk it down – whether room by room, surface by surface, or trade by trade. Step by step, piece by piece, you'll get through it.
Clare falls into the 'really enjoy it' camp, and so has loved this process and her ability to feel involved in making her home look and feel a certain way.
Check, review and check again
With all these selections being made at separate venues and separate companies, the builder's Interior Designer is responsible for bringing it all together so it is scheduled and documented.
Clare and Darren's advice (and mine) – is to check, review and check again. It ends up that the builder's Interior Designer was working on an older revision of the drawings. She had put double power points behind appliances that only needed a single power point. So, little things adding up to extra costs if they'd been missed.
It's your home – stay involved, or pay someone to do this on your behalf (read my blog about having an agent if you're not convinced).
How's the budget looking after all these selections?
By now, Clare and Darren have completed all selections and have a variation to their fixed build cost ($393,000). Clare has kindly itemised below the 'overs' where they exceed the PS provided in the quote to illustrate (because I know some of you in the UA Community LOVE detail!):
Reece plumbing – $500 over
Appliances – $1,400 over (addition of an insinkerator and higher spec on some of the items allowed for)
Carpet upgrade – $2,600 (higher specification than the builder's range of carpet)
Cabinetry – $3,000 (soft-close drawers and cabinet doors, additional cupboards to kitchen, and accessories like bins in kitchen and laundry)
Internal door upgrade – $900 (Clare and Darren had not like the lightweight nature of the hollow-core doors when visiting the display, so had this in their sights for this home)
Tile upgrade and laying upgrade – $7,500 (they had budgeted $10K extra for this item, knowing they wanted a large format, rectified tile and all walls to bathrooms. Increase in tiling amount overall, and increase in laying costs due to tile type selected, as rectified tiles are a little trickier and time-consuming to lay, and so increase labour costs)
Feature paint external – $330 (using more than one colour on the outside of the home)
TOTAL VARIATION TO FIXED PRICE = $16,230 (which takes build cost to $410,000). All still within Clare and Darren's budget.
TOP TIP: You can see from Clare and Darren's 'extras' that they are mainly for upgrades or additional amounts of things. Budgeting for these so they're not nasty surprises means you need to understand exactly what is allowed for in your contract. Understand what is in the builder's range and whether you'll be happy with it. Understand how much tiling there'll be in your bathrooms. Understand how many paint colours you can choose. It's a detailed understanding of these things that will prevent budget overruns down the track if you're not happy with the choices available to you.
A final piece of advice from Clare …
Don't underestimate the time it takes to make decisions with people, even if you think you've made your decisions already. They might ask you something and then you'll start second-guessing your decision, and the question may still bring you back to confirm you made the right decision in the first place. But just be ready and open to the discussions, because sometimes they lead to greater outcomes you hadn't anticipated yourself.
Next instalment … we look at months 2 and 3 of construction, and how quickly work is progressing on site.