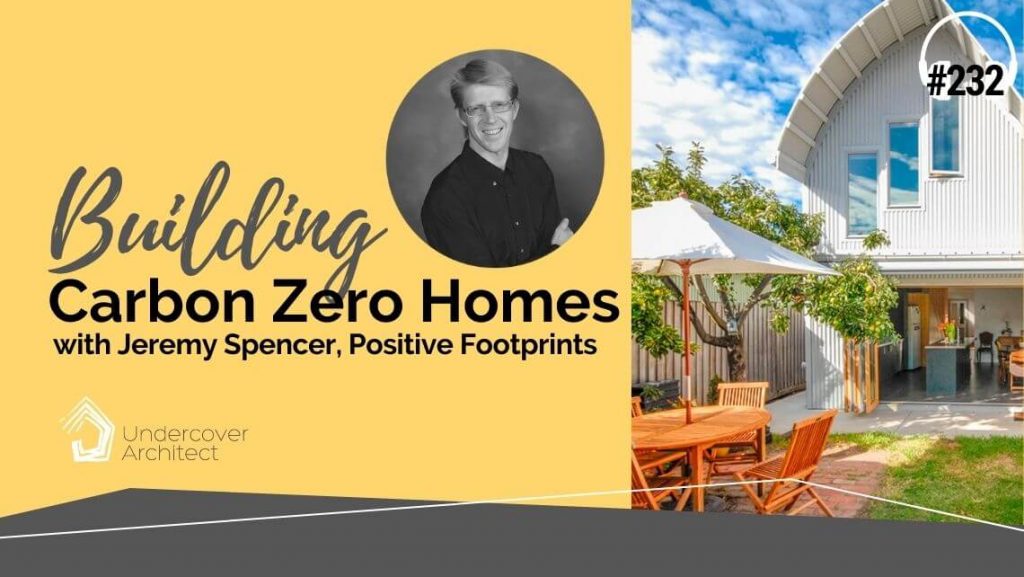 What's involved in building carbon zero homes?
Jeremy Spencer, builder, thermal assessor and director at Positive Footprints, shares how to build sustainable, energy efficient new homes and renovations.
This is Part 1 of my conversation with Jeremy Spencer. [Listen here for Part 2]
Hello! This is Episode 232, and in it, I bring you a fantastic conversation with Jeremy Spencer, sustainable builder, thermal assessor and director of Positive Footprints.
Jeremy and I talk about sustainability and energy efficiency in home renovation and building, but in a way I've not discussed in detail on the podcast before.
Jeremy and his wife, through their design-build Melbourne-based business, Positive Footprints, specialise in Carbon Zero homes. This is their term for a home that is not only Net Zero, but also low in embodied energy.
What's all that mean? Well, we'll be discussing this in more detail, but in short – it means you have a home that produces more energy than it uses AND is considerate of how much energy went into the creation of the products, materials, fixtures and finishes it is constructed from. Which is great for you and the planet.
This is a fantastic conversation with super actionable information on how to consider energy efficiency, sustainability and your carbon footprint in your home design and build. And about how simple it can be to achieve a net zero home as well.
I'm really excited about this episode, because I know it's going to provide you with some really useful information for any renovation or building project – and in doing so – help you create a much more sustainable home.
Our carbon footprint is something that we discuss in loads of areas in our life, and in many instances, we're getting the option to offset our carbon footprint through paying extra at the point of purchase. And you've probably been fed articles on the tips and ways you can reduce your carbon footprint through how you shop, how you travel and how you buy energy for your home.
BUT … when it comes to building and renovating itself, your 'carbon footprint' is not a metric that gets discussed as a priority in many building conversations. And yet, as you'll hear from my guest, the carbon footprint of your home itself can be huge, and considering how to reduce it is not only accessible and achievable. It's also great for the long-term performance and future proofing of your home as well.
Let me introduce you to my guest for this podcast, Jeremy Spencer.
For almost 20 years Jeremy has been a Registered Builder, Thermal Assessor and Director at design and build company Positive Footprints.
Positive Footprints is driven by two directors, a husband and wife team, Jeremy Spencer and Chi Lu.
Prior to 2000, Chi was working in law and business, while Jeremy was a primary school grade teacher with a background in environmental geography and woodwork.
Both had an opportunity to work abroad for a couple of years, and the overseas experience allowed them to appreciate various cultural perspectives and global concerns. Principally among them was the seeming disconnect between our society's voracious resource use, throw away mentality and pollution-generating energy sources, and the way natural eco-systems recycled resources and made efficient use of available energy. They resolved that learning from nature was a way forward for both environmental and social benefit.
Moving back to Australia, and developing an interest in housing and passive solar design and sustainability more broadly, Jeremy and Chi decided that they could direct their energies to become part of the solution. This culminated in a change in career direction and a return to study for both of them, Chi to become a Designer and Jeremy a Builder and Energy Rater, and Positive Footprints was formed.
Positive Footprints has won multiple awards for sustainability and worked to show that energy efficient sustainable design and high performance construction is a cost effective option and can be a mainstream reality.
As well as being an educator and former GreenLiving lecturer in an earlier life, Jeremy is a founding member of Builders Declare, and currently sits on the Design Matters Board, the Sustainability Hub, and the NatHERS Stakeholder Consultative Group.
I know you'll find what Jeremy has to share super helpful. I've broken our conversation into two episodes, so let's dive into Part 1 now – and be sure to tune into the next podcast to hear part 2.
In this episode, I ask Jeremy questions such as:
How he went from being a school teacher to a builder
What is a Carbon Zero home
Why is this the approach he and his wife have chosen, and now help homeowners achieve through Positive Footprints, as their measure of achieving a sustainable home?
How do you start on the journey of a Carbon Zero home when designing, building and renovating?
How do you calculate the carbon footprint of a home itself, and make better material selections for your home?
How do you use NatHERS to review the success of the home design for its energy efficiency?
RESOURCES:
Find more information about Jeremy and Positive Footprints here >>> https://www.positivefootprints.com.au/
Builders Declare
>> Instagram (includes regular tips on building sustainably)
>> YouTube (with great webinars on various topics)
Sustainable Builders Yak Podcast >>> LISTEN HERE
Design Matters National >> Educational webinars
Explore Climate Active Certified businesses here >>> CLICK HERE
Access the support and guidance you need to be confident and empowered when renovating and building your family home inside my flagship online program >>> HOME METHOD
Learn more about how to get started with your home design with the Happy Home Design mini-course >>> HAPPY HOME DESIGN
Access my free online workshop "Your Project Plan" >>> FREE WORKSHOP