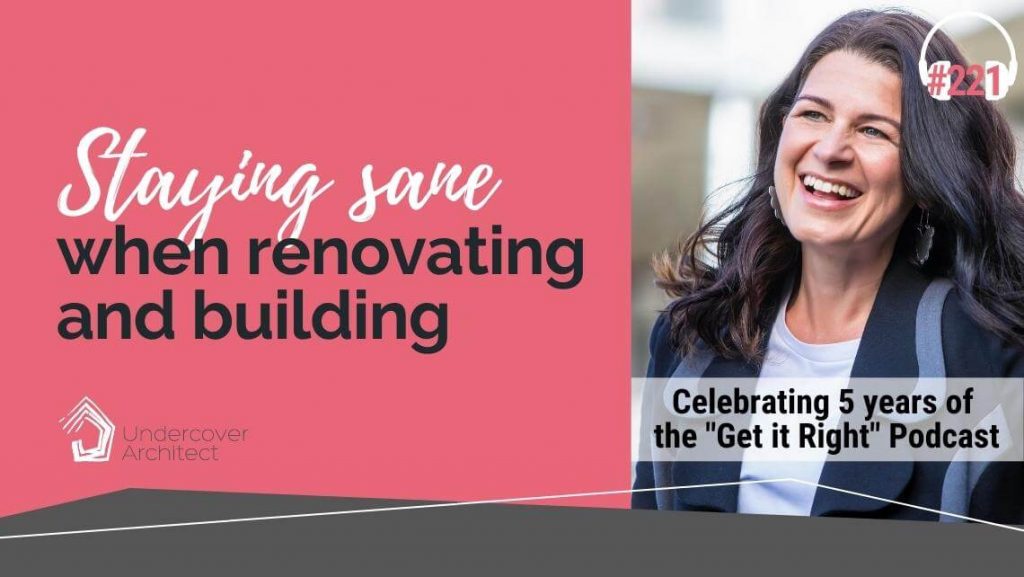 Renovating and building can be stressful.
Learn the most underestimated mistake to avoid so you can stay sane in your project.
Hello! This is Episode 221, and in it, I'm going to be sharing one of Year 2's most popular episodes and continuing our celebration of 5 years of the "Get it Right" podcast.
This episode was from Season 5 of the podcast, which was called "The Mistakes Many Make".
Here at Undercover Architect – on this podcast, on the blog, on social media and definitely inside my online courses and programs, I'm often sharing the mistakes many make.
My hope is that by sharing them with you, it will enable you to avoid them altogether. Or at the very least, be much more aware when you might be heading in that direction so you can course-correct quickly.
So, that's what Season 5 was about, and this episode was clearly a favourite. It was called "The most underestimated mistake when building or renovating your home."
I find that when it comes to building and renovating, the worst mistakes can often be the underestimated ones, or the ones you really don't see coming.
Many homeowners are focussed on what seem like the 'real' mistakes. Such as errors in the design, or forgetting to include a specific feature or functionality in their home, or choosing the wrong team member, or something being stuffed up during construction.
However, sometimes the most serious and impactful mistakes are related to you and how you are in your project.
What I mean by this is: what you do to get yourself prepared, to have the right mindset, the right support and the best approach to navigate your project more calmly and confidently. These things can be where homeowners make the most significant and impactful mistakes.
Season 5 of the podcast contained a collection of these mistakes, as it took you through the ones I see so many make. And I see the mistakes covered in Season 5 be really debilitating, and drain a lot of energy from homeowners.
And this is the problem with that: Once your energy is drained, you become more susceptible to making poor decisions about how you spend your time, your money and the outcome of your project as well.
Because usually what happens is that, by the time your energy is being drained, you just want it to be over with, and be out the other side. And so you start moving with haste.
And whilst you're possibly frustrated and stressed at the situation, and even yourself, for making choices in this way, you are just super keen to have the whole thing over with already.
So this is why it's definitely worthwhile learning what you can to avoid making these mistakes in your project. To avoid getting yourself into a position where your energy is drained altogether.
I've got 3 things I want you to remember when it comes to understanding reasons why stress happens and takes homeowners by surprise:
there is a huge amount of emotion caught up in the whole idea of 'home' – and our attachment to it – and creating change to 'home' comes with its own cocktail of emotions that we totally underestimate the power of
when renovating or building, you're not only dealing with dreams, hopes and fears, but also status and personal identity, and that clouds rational judgement, no matter how balanced you try to remain
people are people first, and emotions can get out of hand as people differently under stress – even if you're dealing with businesses as you renovate or build, everyone is a person first and their behaviour can be impacted by what they're going through personally
Listen to the episode now.
RESOURCES:
Links I mentioned in this episode:
Listen to the rest of Season 5's episodes >>> SEASON 5
Houzz article >>> Renovations and Relationships – Do they Mix?
Podcast about creating your brief >>> How to Communicate Well
Podcast to help you think about what you and your family needs from your home >>> Answer this question before you begin design
Other resources:
Access the support and guidance you need to be confident and empowered when renovating and building your family home inside my flagship online program >>> HOME METHOD
Learn more about how to get started with your home design with the Happy Home Design mini-course >>> HAPPY HOME DESIGN
Access my free online workshop "Your Project Plan" >>> FREE WORKSHOP